Meet Our Residents
A Message From the Chiefs
Dear Applicants, welcome to UC San Diego Radiology!
Congratulations on making it this far and choosing the best specialty there is! We can't wait to meet you and share with you everything that our program can offer. We think that the balance of rigorous clinical training, diversity of patient populations and pathology, commitment to education, and endless research opportunities at UC San Diego is unprecedented and makes us one of the strongest training programs in the country. The challenges of the recent years have truly made us stronger and helped us renew our focus on wellness, mentorship and community within the department. Our incredible faculty are experts and world leaders in their fields with a passion for teaching and supporting trainees. The best part of our program, however, is our residents-the brilliant, hardworking, genuine, and fun people who make coming to work every day a true joy and ceaselessly push each other to new heights.
Please reach out to us if you have any questions about our residency program!
— Angela Chen, MD, Abhi Jairam, MD, and Luke Wojdyla, DO
2023–2024 Chief Residents, UC San Diego Radiology Residency

Angela Chen, MD

Abhi Jairam, MD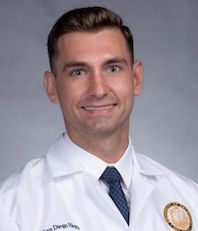 Luke Wojdyla, DO