Radiology Wellness Program
About Our Wellness Program
Our singular UC San Diego Radiology Wellness Program helps connect healthcare providers to resources related to faculty and resident burnout, depression, suicide, and resilience.
The Radiology Wellness Program operates in collaboration with the UC San Diego Healer Education Assessment and Referral Program (HEAR).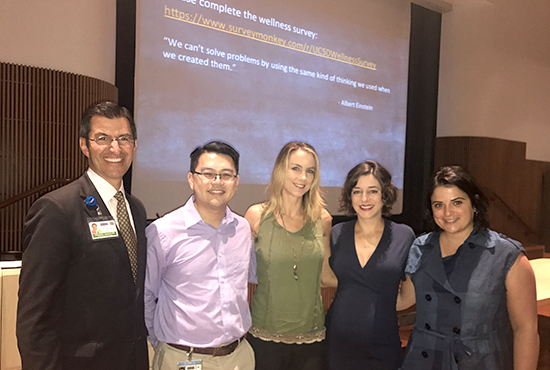 Dr. Alexander Norbash, Radiology Chair (left), with Radiology Wellness Program co-Directors Drs. James Chen, Megan Hellfeld, Isabel Newton and Rebecca Rakow-Penner.
What is Burnout?
Burnout can result from prolonged work-related stress, and it is on the rise or physicians. Most radiologists suffer from symptoms of burnout, and the consequences can be serious to us as individuals, our patients and our profession. In partnership with the Healer Education Assessment and Referral program (HEAR), the Radiology Wellness Program takes an active role in mitigating burnout and promoting a culture of wellness at both the institutional and personal levels.
"Burnout can be thought of as a symptom of work-life imbalance," says Isabel Newton, MD, PhD, co-Director of the Radiology Wellness Program. "We can all choose to restore balance to our lives and build our resilience, but it involves more than just adding a bubble bath or getting a massage. It is an active, daily process of weighing the pressures and responsibilities of our profession against our own personal needs. We can remain devoted to our patients while honoring ourselves."