About Us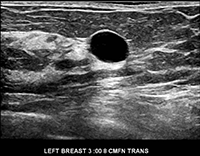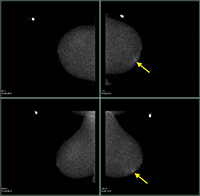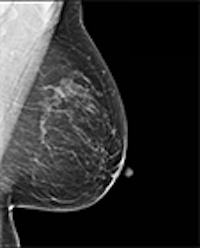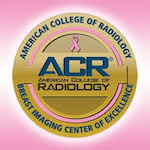 UC San Diego Breast Imaging Center is a Breast Imaging Center of Excellence, a designation given by the American College of Radiology to fewer than 6% of all imaging centers in California. We offer all breast imaging modalities, including digital breast tomos, MRI of the breast, and molecular breast imaging.
UC San Diego Breast Imaging Center
UC San Diego Breast Imaging Center provides a comprehensive, personalized diagnosis for women and men in a warm, comfortable setting, and every breast imaging study is read by a fellowship-trained breast imaging specialist. Our Comprehensive Breast Health Center is housed in La Jolla, at the Koman Family Outpatient Pavilion.
Our Breast Imaging radiologists work closely with an outstanding team of surgeons, medical oncologists, and radiation oncologists at Moores Cancer Center — all experts in fighting breast cancer — to provide therapy in a caring environment. Moores Cancer Center is one of just 40 National Cancer Institute (NCI)-designated Comprehensive Cancer Centers in the United States, and the only one in the San Diego region — studies show that overall outcomes are better at NCI-designated centers. We also have a new location at Via Tazon, UC San Diego Health — Rancho Bernardo, which offers both screening and diagnostic services.
Areas
Magnetic Resonance (MR) Screening & Diagnosis
MR imaging is used as an adjunct to mammography in some situations and in combination with screening mammography in high-risk patients (BRCA gene carriers, strong family history of breast or ovarian cancer, prior radiation therapy to the chest, etc.). No radiation is used during Breast MRI. Instead, the subtle application of magnetic fields allows the radiologist to see differences in breast tissue.
Breast MR is never used as a replacement to mammography. If a suspicious finding is identified on an MR study, the patient and referring doctor will be informed. Often an ultrasound is performed on the area in question to determine the best method for biopsy.
Breast MR also is used to evaluate patients with a new diagnosis of breast cancer prior to their surgery. A recent mammogram is always needed to interpret MR findings. Our centers are equipped with leading-edge technology for mammography. We were the first facility in San Diego to perform digital mammograms, and our radiologists were on the investigatory team to develop digital mammography.
Image-Guided Interventions
UC San Diego offers several types of image-guided biopsy and intervention, depending on the abnormality to be evaluated. Procedures we offer include:
Stereotactic-guided biopsy to target calcifications or masses seen only on mammogram.
Ultrasound-guided biopsy to target masses, cysts, or abnormal appearing axillary lymph nodes seen on ultrasound.
MRI-guided biopsy to target masses seen visible by MR.
Image-guided needle localizations to help the surgeon localize the lesion by placing a small wire directly next to an abnormality if breast surgery is required.