4-Year Diagnostic Radiology Residency
4-Year Diagnostic Radiology Residency
Overview
The UC San Diego Department of Radiology comprises a large nationally and internationally recognized faculty who subspecialize in all fields of clinical radiology and radiologic research. Residents work closely with these educators in a supportive and welcoming environment. Expert fellowship-trained radiologists provide one-on-one training in a variety of subspecialties and modalities at different sites within UCSD and at affiliates like the VA Medical Center, Rady Children's Hospital, and the Naval Medical Center. There are currently nine ACGME-approved spots available in our Four-Year Diagnostic Radiology Residency.
Education
Education is at the forefront of the program with daily noon conferences, weekly subspecialty case conferences, protected weekly three-hour resident mega-conferences, departmental grand rounds, continued quality improvement (CQI) conferences, intensive board reviews, and a comprehensive physics curriculum. The George Leopold Club, named after a former department Chair and avid educator, is a cherished tradition in which first year residents learn the fundamentals of radiology from subspecialty attendings in a relaxed small group setting. UCSD residents also learn by teaching through one-on-one interaction with, or giving lectures to, rotating medical students, presenting radiology case conferences to medicine residents, and participating in hospital-wide tumor boards, among other avenues.
"The degree of attending expertise combined with their desire to share their knowledge, the breadth and complexity of cases available, and the caring community can't be beat! I would recommend this program to everyone!" — UC San Diego Radiology Alumnus
Research
UC San Diego School of Medicine is consistently one of the top 10 public medical schools for research funding, and the Department of Radiology's mission is to discover and establish novel solutions at the intersection of health care, science, and technology. Diagnostic residents are strongly encouraged to participate in research with funding consideration for presenting at national and international radiology conferences. There are ample opportunities to be involved with clinical or basic science research in any subspecialty- supportive mentors can be found in any area of interest. Monthly resident journal clubs are held to reinforce the importance of evidence-based practice.
Program Directors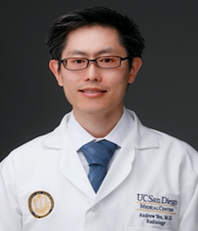 Andrew Yen, M.D.
Program Director, Diagnostic Radiology Residency
Clinical Professor of Radiology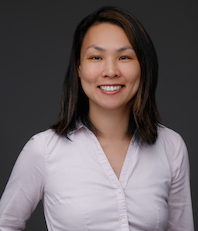 Joy Liau, M.D., Ph.D.
Associate Program Director, Diagnostic Radiology Residency
Assistant Clinical Professor of Radiology
Brady Huang, M.D.
Associate Program Director, Diagnostic Radiology Residency
Associate Clinical Professor of Radiology
Community
Camaraderie, community, and leadership are at the heart of our program. Department-sponsored resident social gatherings are held monthly, with additional events frequently hosted by generous faculty and friends. Residents also participate in the free medical student-run clinic, offering imaging services to the underserved and hands-on experience for medical students. Most residents are involved in multiple leadership positions within the residency program, the radiology department, UC San Diego Health, and state and national medical and radiological committees.
Wellness
The residency wellness committee is a small group of junior resident leaders who are responsible for incorporating well-being topics into the standard didactic curriculum, coordinating residency recruitment efforts, as well as organizing periodic social and volunteer events to support camaraderie among residents and faculty. The committee advocates for efforts that garner a sense of community and promote a healthy work-life balance for all trainees. Throughout the year, residents also go on outings to local restaurants, hiking trails, and a variety of additional interdisciplinary activities to build connections with other house staff and faculty.
Equity, Diversity & Inclusion
The Department of Radiology values each individual's perspective, experiences and contributions toward patient care, education, research, innovation and professional growth. We strive to have faculty, trainees, researchers and staff as diverse as the populations we serve, and to support initiatives to decrease health disparities and increase radiology access locally and internationally.
Meet Our Diagnostic Radiology Chief Residents