IR News: Prostate Artery Embolization
IR News: Prostate Artery Embolization
UC San Diego offers prostate artery embolization as an alternative, minimally invasive treatment for benign prostatic hyperplasia
Many men develop an enlarged prostate, or benign prostatic hyperplasia (BPH), as they age. The symptoms associated with BPH include sudden urge to urinate, frequent urination, incomplete emptying, and weak stream.
Traditional surgeries and treatments for BPH are effective but may be associated with side-effects, hospitalization, and painful recovery. In contrast, prostate artery embolization (PAE) provides a minimally invasive treatment alternative to patients with symptoms of BPH. PAE is performed using catheters and imaging guidance. Small beads are injected into the prostate arteries to block the blood flow to the prostate.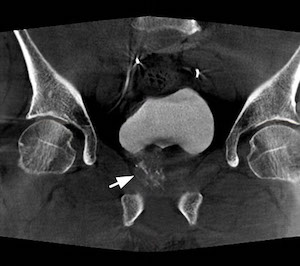 CT image obtained during the procedure shows opacification of the prostate gland (arrow)
The procedure is performed under conscious sedation and takes typically 2 to 4 hours. Patients go home the day of the procedure.While PAE has been performed for more than 7 years in several countries, is still a relatively new technique in the United States. At UC San Diego Medical Center, Interventional Radiologists Dr. Michael Taddonio and Dr. Jonas Redmond currently perform PAE for patients with BPH, thus providing a minimally invasive treatment option to qualified patients.
Before a PAE procedure, all BPH patients must be evaluated by a Urologist familiar with the treatment to be sure they are good candidates for the procedure. Patients must also be properly informed on all treatment options, including minimally invasive surgery and PAE.
The long-term success of PAE is under investigation. Studies demonstrate approximately 80% success rate after 3 years. Success may vary depending on treatment technique, prostate size, and other confounding factors that may not yet be known. Reported side effects are minimal, but severe side effects can occur with PAE, and patients should discuss them with a physician before the procedure. A potential benefit of PAE is the avoidance of sexual side-effects that may occur with other treatments for BPH.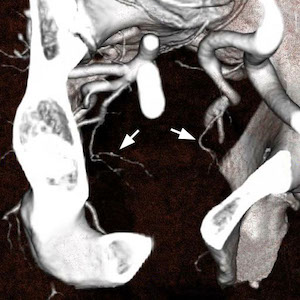 Planning CT image shows the right and left prostate arteries (arrows)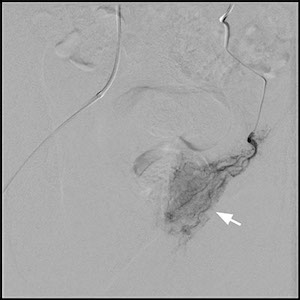 Procedure image shows blood supply to the prostate gland (arrow)
For Patients
For more information about Prostate Artery Embolization (PAE), contact UC San Diego Interventional Radiology. Go to UC San Diego Health for appointment information: