News & Events
Upcoming Events
TBD
Archived News & Events
07/01/2022

UC San Diego MSK welcomes its new 2022–2023 fellows!

7/01/2022

Please join us in welcoming our newest faculty member to the "bone" section, Dr. Karen Cheng! Dr. Cheng completed her MSK fellowship and residency at UCSD in 2021-22, after completing 2 years of orthopaedic residency at UCSD and an R1 year in radiology at UCI.

6/2022

Learn all about talocalcaneal coaltions in the recently published on-line RadSource web clinic by Dr. Cheng and colleagues.
06/23–06/26/2022
Come join us for IDJ 2022. Many former UCSD MSK fellows are expected in attendance for a reunion like none other! Make sure to register in advance!

04/17–04/22/2022
Need to brush up on your radiology knowledge? Check out the upcoming 42nd Annual UCSD Radiology Review Course. Featuring Drs. Pathria, Huang, Smitaman and many more! View the brochure and register!

10/29–10/31/2021

See our very own Drs. Resnick, Chung and Hughes lecture at the Post Graduate Radiology Course! Learn about the knee, spine, cartilage and more! Get course information and brochure.
9/22/2021

Former fellow Dr. Wilson Lin gives an excellent review of imaging of spinal surgery. Thank you Dr. Lin!
09/10/2021

A world-reknown expert in imaging of the hip, Dr. Blankenbaker from the University of Wisconsin gives an in depth review of hip pathology. Go Badgers!
08/24/2021

A master of his craft, Dr. Rubin gives a informative lecture on practicle ways to improve MSK MRI image quality!
07/29/2021

Back at it again! Dr. Goodwin, former '93-'94 fellow revisits ankle trauma with some new tricks up his sleeve! Thank you Dr. Goodwin!
7/1/2021

UCSD MSK welcomes its new 2021-2022 fellows!
6/25–6/27/2021

Join Dr. Resnick and the UCSD MSK team for "Internal Derangement of Joints," this year focusing on the upper extremity! Register at Educational Symposia. We look forward to seeing you there!
4/18–4/22/2021

Join some of the UCSD faculty for great learning opportunities at the upcoming ARRS meeting! Dr. Chung will be speaking Wednesday and covering MRI of the hand. Dr. Huang will be speaking Tuesday and covering ultrasound of the wrist. For more info, go to the ARRS meeting website!
4/15/2021

Blast from the past! Dr. Goodwin, a former 93-94 fellow and recently retired staff from Dartmouth delivers an excellent and practical lecture about ankle trauma!
2/24/2021

Former fellow, Dr. Baldassarre tackles the complex subject of imaging of acetabular fractures.
2/02/2021

Dr. Huang will lend his expertise in this 2-part lecture series focusing on brachial plexus 1) anatomy and 2) pathology. Tune into the UCSD Grand Rounds and San Diego Radiological Society for each lecture part.
1/28/2021

Dr. Serrano from Santiago, Chile delivers 2 exciting lectures! 1) MCP joint of the thumb and 2) Muscle injuries. Thank you Dr. Serrano!
1/21/2020

Former fellows, Drs. Christopher Maxwell and Hanna Chen follow-up with an in-depth update of scaphoulnate instability. Also, check out their RadSource MRI Web Clinic article for more information!
1/13/2021

Dr. Dyan Flores gives an review of her award winning RSNA 2020 educational exhibits, discussing the finer points of carpal instability!
12/9/2020

Dr. Bryan Leek gives an overview of the history of shoulder arthroplasties, all the way to newer reverse shoulder arthroplasty concepts.
10/23–10/25/2020

Join Dr. Resnick and the UCSD MSK team for the "Internal Derangement of Joints" live online webinar. Register at Educational Symposia.
10/15/2020

Dr. William Millard, former fellow from 2016–2017, helps us understand the complexities and intricacies of the lumbosacral plexus!
8/27/2020

Dr. Eric Bultman deliverse a fantastic lecture on the physics of fat-suppression techniques on MRI.
8/26/2020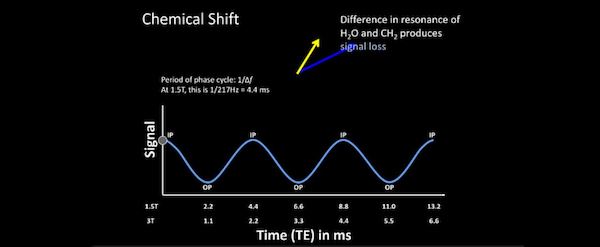 Dr. Wilbur Wang lectures the UCSD MSK staff, fellows, and residents on the utility of chemical shift MR imaging in MSK applications! Another excellent guest lecture!
7/31/2020

Dr. Diego Lemos lectures the UCSD MSK staff, fellows, and residents on the finer points of superior capsular reconstruction of the shoulder. Follow Dr. Lemos on twitter @dflemosmd
7/01/2020


UCSD welcomes it's new MSK Fellows for the 2020–2021 academic year! Another stellar group!
7/01/2020


Need more MSK education? See terrific cases in MSK and general radiology on Dr. Smitaman's instragram account. Follow Dr. Smitaman on instagram @xrayt_ed
Radiology Side Trip
Features Srihari Sampath, MD, PhD, and Srinath Sampath, MD, PhD
Does the human genome contain more information than we think?

Radiologists don't often consider such basic science questions. But in their dual roles as Musculoskeletal Radiologists at UC San Diego and Musculoskeletal Biology Lab heads at the Genomics Institute of the Novartis Research Foundation (GNF), Srihari Sampath, MD PhD , and Srinath Sampath, MD PhD , ask questions like this routinely.
In fact, it was this question that put them on the path to discovering a new gene required for skeletal muscle formation (Zhang et al., Nat Commun. 2017 Jun 1;8:15664).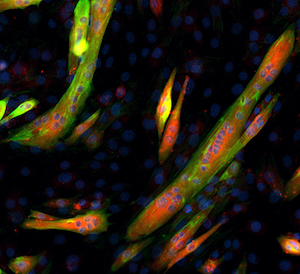 Researchers have discovered a tiny protein (shown in red) required for developing muscle progenitors to fuse and form contracting muscle fibers. Image by Qiao Zhang.
Scientists have believed for some time that the increasing complexity of organisms—from flies to humans, for instance—can't be explained readily by an increase in the number of genes. Sampath and Sampath considered the intriguing possibility that more genes do actually exist in mammals, but that those additional genes have been overlooked due to the convention that defines genes as "protein-encoding" only if they are above a particular (and arbitrary) cutoff size. Recent work has clearly identified important proteins below this cutoff in other species, particularly in fruit flies. Sampath and Sampath wondered if this phenomenon might apply to humans as well, and set out to uncover whether any such "microproteins" exist in mammalian skeletal muscle.
They looked at global gene expression in injured and uninjured mouse skeletal muscle, and were indeed able to identify a new gene encoding a microprotein below the arbitrary size cutoff. To their astonishment, when they genetically deleted this tiny gene via CRISPR/Cas9 gene editing, the mice died at birth. The reason was simple but informative: the gene is essential for formation of all mammalian skeletal muscle, and without it the muscles of respiration never form. Further work showed that this microprotein functions by enabling the fusion of single muscle cell progenitors to form the giant multinucleated cells which we know as myofibers. In honor of the protein's small size but big impact, they named it Minion (Microprotein INducer of FusION).
As physicians, Sampath and Sampath are naturally interested in the translational relevance of these findings. They and others are in fact exploring use of the Minion-based fusion program to accomplish "therapeutic" cell fusion, for instance in oncolytic therapy and cancer vaccine development. Recent work has also indicated that this fusion program is deficient in a human form of congenital myopathy, making the pathway itself a potential therapeutic target. Perhaps the longest term impact, though, is in drawing attention to the many mysteries that still lay hidden in the "dark matter" of our genomes.